Leicester Square Kitchen
31-36 Leicester Square, London WC2H 7LH
Make a Reservation

opens in a new tab
Leicester Square Kitchen
Contemporary Mexican and Peruvian on London's most iconic square
Set on London's most vibrant square, Leicester Square Kitchen introduces a Mexican and Peruvian dining experience serving small plates and innovative cocktails. From exquisite tacos to fine skewered meats from the Peruvian barbecue, the menu takes diners on a journey through the unique flavours of South America.

Bridging the gap between authenticity and modernity, the design employs a playful duality between colours and materials, with black and white marble tables contrasting exposed columns and bright metro tiles shining to the backdrop of dark brick walls. Before your dining experience, we invite you to enjoy a pre-dinner drink in the bar, outside on the terrace or in the neighbouring At The Hampshire Lounge Bar for the perfect start to the evening.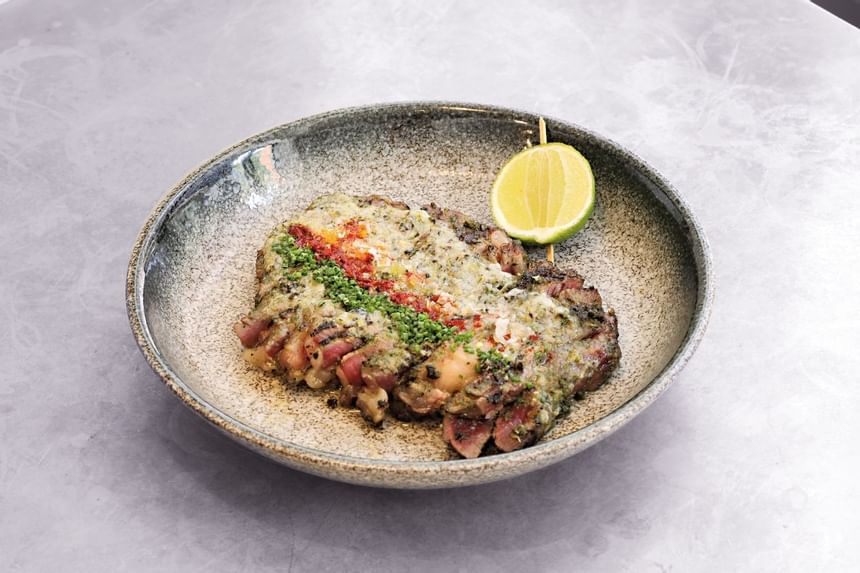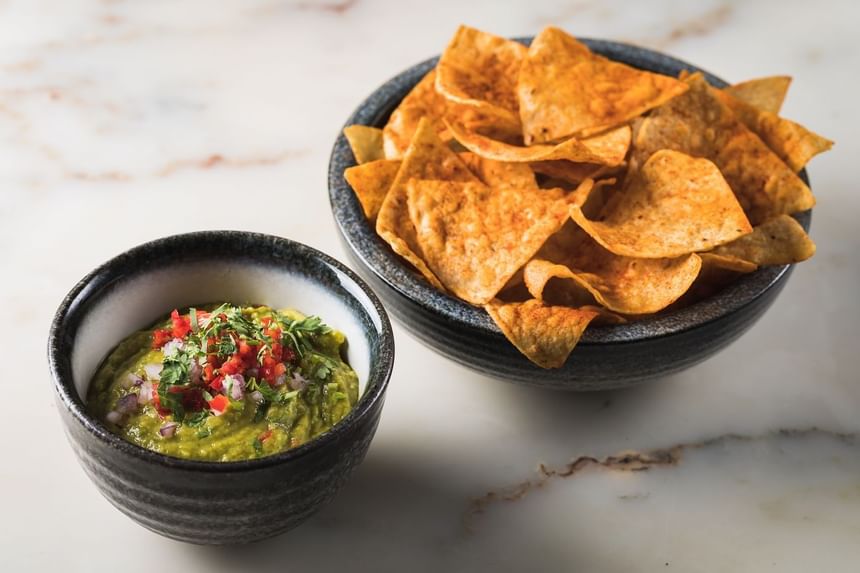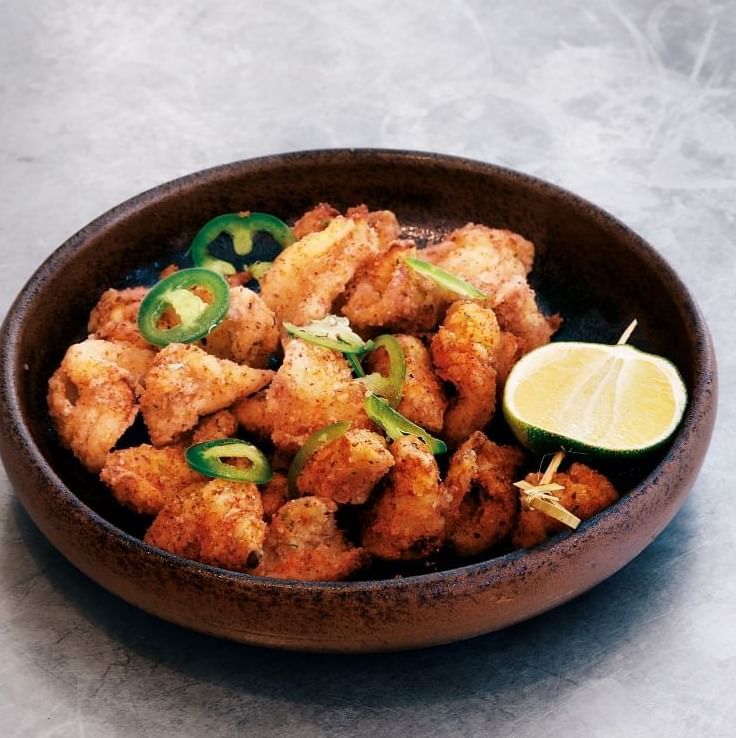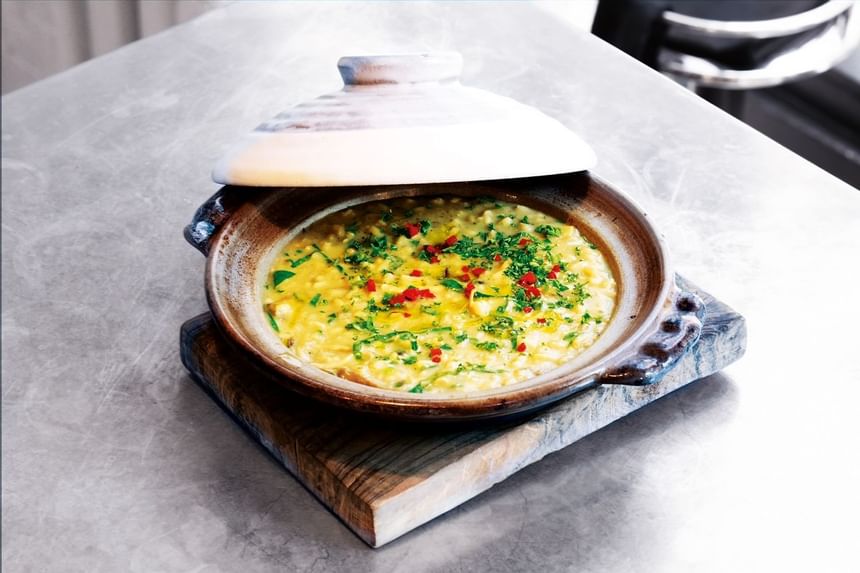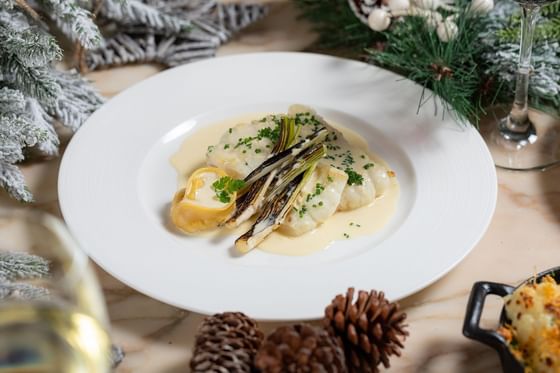 Spend the most magical day of the year in the heart of the West End with an exquisite five-course dining experience. Expect festive classics with a twist, including aged beef Wellington and Dover sole fillet with all the trimmings.
12:30pm - 3:30pm
View Menu

opens in a new tab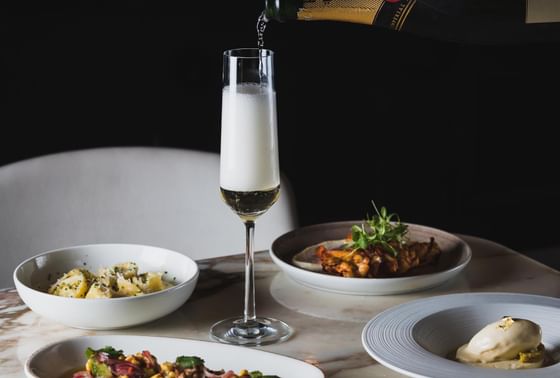 Experience New Year's Eve on Leicester Square with a four-course dining experience and celebratory glass of Moët & Chandon Brut for your toast. Expect dishes such as smoked paprika ribs with mezcal glaze, 28-day-aged rib-eye steak with garlic lime butter, and piloncillo doughnut with spiced citrus, salted caramel and cinnamon sugar.
5pm - 10pm
View Menu

opens in a new tab
New Year's Eve At The Hampshire Penthouse
Leicester Square Kitchen presents a spectacular penthouse experience this New Year's Eve. Join us for panoramic views of the iconic London Eye fireworks display.
The experience includes:
- Panoramic views of London and the firework display.
- Free-flowing Veuve Clicquot Champagne, wines, house spirits, beers and soft drinks until midnight.
- An exquisite selection of signature canapés.
- A live set by our resident DJ.
- 9:00pm till 12:30am.
Children are welcome for this event.
Leicester Square Kitchen Lounge Bar
Perch at our intimate bar for a limited selection of South American small plates, specialities and cocktails inspired by Mexico and Peru.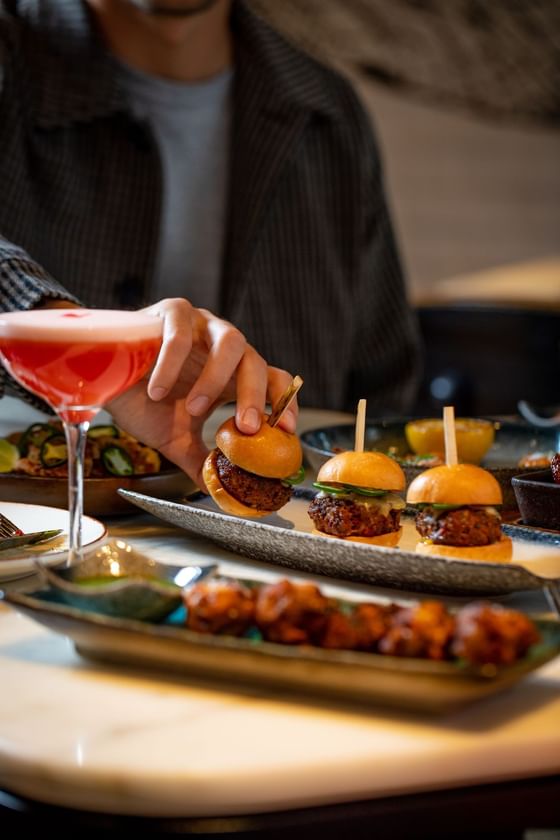 Catching a show in the West End? Our set menu is perfect for a pre-theatre dinner before strolling over to one of the nearby playhouses. Choose three plates for just £28 from a variety of dishes, such as Habanero matchstick chicken, Wild mushroom risotto with black chilli, spinach and truffle butter, and Mojito-infused tropical fruit with white chocolate and mint ice cream, rum and fresh lime. You may also opt for two plates at £23.
View Menu

opens in a new tab
Sample some of the finest signature Mexican and Peruvian dishes with our set menu, perfect for a lunch in the heart of London. Choose three plates for just £28 from a variety of dishes, such as Chicken wings with green habanero chilli sauce, Grilled wagyu and chorizo chilli cheese sliders, and sweet taco with spicy chocolate mole, orange agave salsa and sour cream habanero ice cream. You may also opt for two plates at £23.
View Menu

opens in a new tab
Private Dining & Events
Planning a special occasion? Whether you require an intimate space or the entire restaurant, Leicester Square Kitchen is an inviting setting for private dinners and exclusive parties on London's most iconic square.

T: +44 20 7666 0902
E: groupsdining@thekitchensrestaurants.co.uk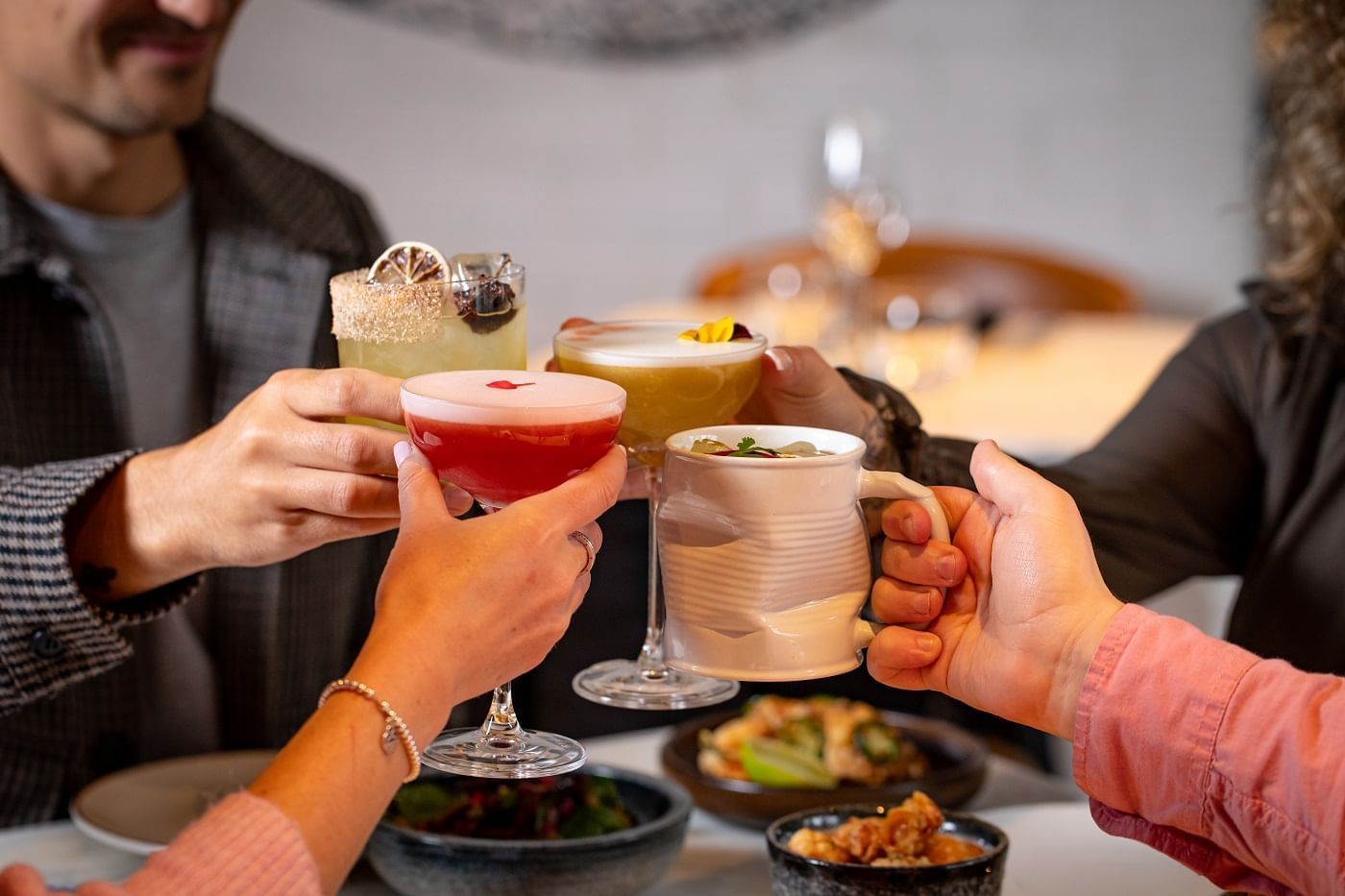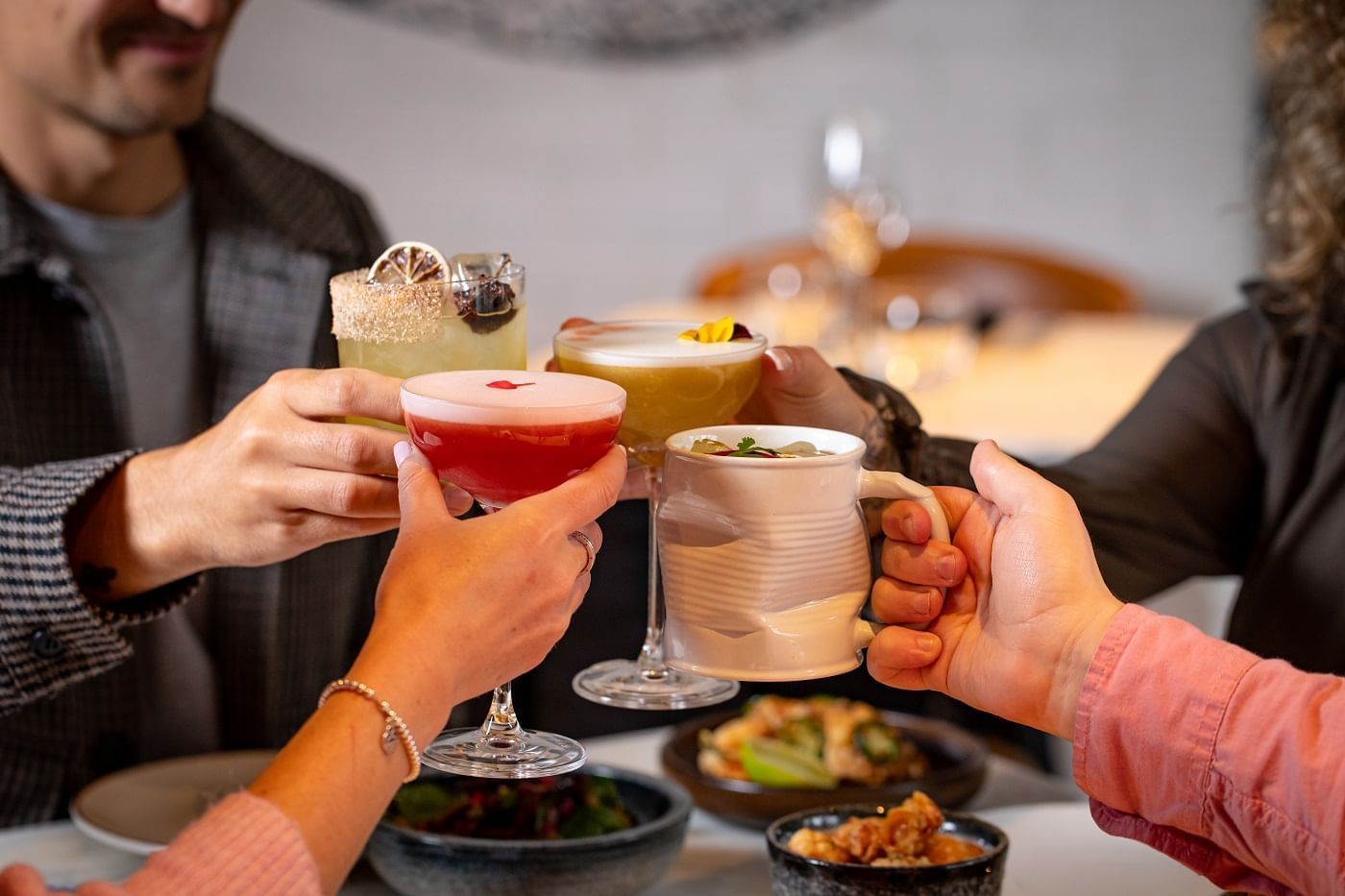 Gift Vouchers
Dining experiences at Leicester Square Kitchen
Breakfast
Monday - Friday
7am – 10:30am

Saturday and Sunday
7:30am – 11am
Lounge Bar
Sunday - Wednesday
5pm – 10pm
Thursday - Saturday
5pm – 11pm
All-day dining
Saturday
1pm - 10pm
*Last orders 10:15pm

Sunday
1pm - 7pm
*Last orders 7:15pm
Lunch
Wednesday - Friday
12pm – 2.30pm
Dinner
Wednesday - Friday
5pm – 10pm
*Last food orders at 10:15pm